Calendar of Upcoming Events
New Moon Bonfire
The new moon brings powerful energies, and it is a time to put our effort into being happier and lighter, and to reach out to grab the life we have always dreamed of living.
On the new moon we can release old, stagnant ways that keep us stuck in unproductive patterns. Then bring in bright, shiny, new energies from the Universe that will increase our awareness of our connection to each other, and everything else in nature.
Sounds good, but how?
Write down the things that you would like to release: jealousy of a co-worker, anger towards an in-law, quit smoking, or whatever negative habit that occupies your mind, and ruins the quality of your life. On the new moon, hold the intention in your heart-consciousness to let these things go, then burn the list. Fire is a powerful cleansing tool, and you'll be amazed at how real the energy is. Once you KNOW that it is done, that these things are gone from your life, take a deep breath (or three) and begin to bring in the positive energy of Universal Love. As your heart expands with the fullness of this beautiful, new energy, begin to send it to your loved ones. Then send it to those you have had conflict with in the past (but no longer have because you just released it), and so on until you are surrounding the Earth with the brilliant glow of this white light of Universal Love.
Do this every new moon to align yourself with the energies of this age of Universal Love which began at the end of 2012. If you're keen, you can feel this energy already, and if you haven't felt it yet, that's even more reason to do this exercise every month.
Let's all raise our consciousness together. This is the change we all want to see in others, but we must begin with our own hearts.
Bring your list, tied to a stick and ready to burn, and BYOB to celebrate afterwards!
Children are welcome, as long as they stay by you and behave during the ceremony.
If you plan to join us, you must participate. No exceptions.
Where:  Raw Spa Belize, Bullet Tree Falls
This event is free of charge and open to all.
Medical Intuition
Becoming Your Own Shaman
Earn your degree in Medical Intuition
Dates:
February 6 – March 27, 2017
Monday mornings
10:30-12:00am
at Full Lotus Yoga Holistic Wellness Center, Belize
Eight weekly sessions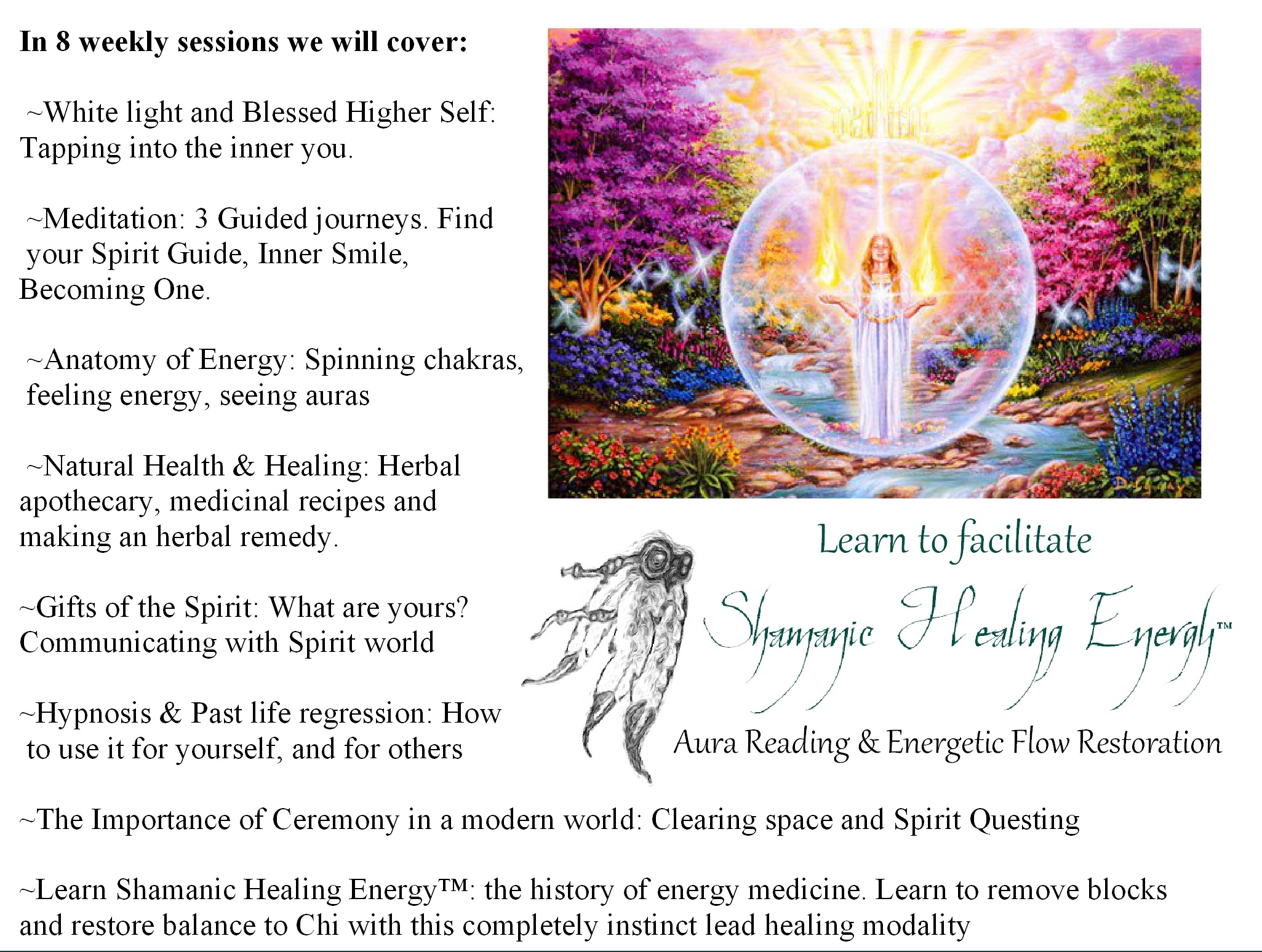 Heeding the Call
In indigenous cultures, shamans who have been called to service but haven't yet said "yes" to the call often wind up stricken with physical ailments. In modern culture, these shamanic sicknesses may fall into difficult to treat categories like chronic fatigue syndrome, fibromyalgia, chronic Lyme disease, chronic pain disorders, and autoimmune disorders.
Acceptance of the call to shamanic service often resolves the symptoms of shaman sickness. If you're suffering from one of these illnesses, ask yourself, "Am I a shaman who hasn't said yes to my calling yet?"
Tuition:
I taught this as a seven week class for several years, for $350US. Now this EIGHT WEEK course is being offered for the same price (you get an extra week free!)
*To earn your certification, you may not miss more than one class, and you may not miss the final class. Walk ins are always welcome for $50 per class, and alumni may join us free of charge for any or all sessions.
Register Now to reserve your seat:
Sign up!