Spirit Flight
Claim Your Joy and Your Health Will Follow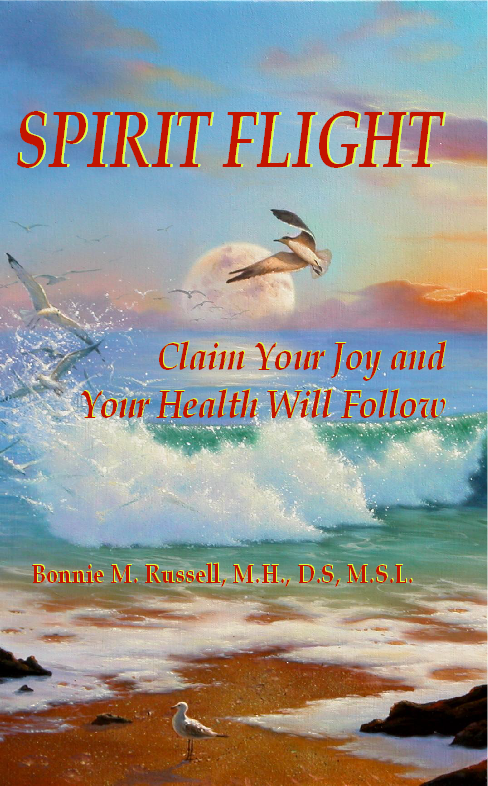 Available now on Amazon - Kindle or paperback version
Buy now!
Prescription for a healthy and balanced life

We are composed of three things; our conscious, thinking mind, our Spirit, and our physical body.

Spirit Flight, contains clear, helpful information for integrating all of the components of you, right here, under one cover.
If you are ready, deep down in your soul, to make your life better, this is the book you've been looking for.
Spirit Flight is full of stories, exercises and resources that describe how to make simple adjustments in your life, that will enable you to take charge of your own well being, so you may reclaim your joy, and your health.
After learning lessons in mind, body and Spirit medicine, you'll find a special chapter called Practical Application in which you can look up any health issue and find herbs, vitamins and dietary suggestions, along with, energetic reasons for the illness, and affirmations for changing the energy.
If you have been struggling with you health, your wellness, or you just want to find balance and joy in your life, read Spirit Flight.
With delightful enthusiasm, Bonnie encourages us to walk through our own journey of healing in mind, body and spirit. As we take responsibility, allow ourselves to be supported, regain balance, and live with joy and love, deep healing can result. Einstein claimed, "If everything is energy, then everything is possible". This easy to use reference will help guide you to being the best you possible!
Dr. Susan G. Burger
Shamanism is for modern people!
This is what is missing in the soul-less impersonal, insurance company dominated modern medical system.
We've had Bonnie as a part of our "healing community" since 2003. Her Blossom Spring™ herbal remedies are a best seller in the shop, and in person, she'll always be of assistance in the most pleasant, memorable way.
Now, take advantage of her written words of wisdom as well!
Karen Stauffer